Team Building Global, a team building company in India, has in-depth knowledge in dealing with such situations. An organization can reach its true success level when provided with the right elements to grow. An organization is a lot similar to a plant to explain the statement, a plant can grow and bear fruits when they are given the right amount of water, and sunlight. Similarly, Investing in a company with effort and time is crucial. Team building events give your company a boost to success. Team building can be a part of corporate events. A company analyzes the issues and caters to team building activities that resonate and challenge any query. Such team building activities are also used on a large scale in corporate team building events or corporate events that serve in leaving an exceptional memory in employees. Team building activities proposed by Team building global are customized according to the client's requirements.
Team building activity by Team Building Global: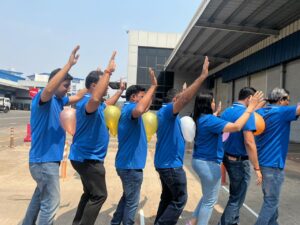 Team building activities make corporate events lively and engaging. As team building activities are focused on better communication, a better understanding of coworkers, conflict resolution, and last but not less employee turnover. This generation is of startups and startups have been rising and gaining success rapidly but are failing to build their business in the market. One of the simple reasons justifying that is that they are failing to build an internal team strong, in such scenarios team building companies in India jump in and equip themselves with activities that help employees connect more. Team building activities play a huge role in big aspects of helping a company reach success, to explain and justify this particular statement further we can say team building plays a huge role in building clear and direct communication. Through a fun series of team-building activities that breaks the ice between employees and encourage a healthy environment where employees can have direct and better communication, team building activities also make a difference in employee turnover. Companies invest a big sum of amount for the hiring process and a majority of employees leave due to unhealthy work environments. Team building activities play a huge role in contributing to making the work environment healthy. It gives employees a different perspective to work with. It gives them a fun and a positive exciting experience that develops company loyalty in the long run.
A company that understands its strengths and weaknesses can survive any kind of challenge and stay together. Such teamwork happens because of good interaction, understanding, and the passion to work through any difficulty together with your team. Team building companies in India leave such an impact that teach and provide a platform that motivates employees to communicate through every scenario adequately. Team Building Global is a corporate team building company in India that is doing an extraordinary job of building teams across the world. Team Building Global provides a variety of activities for various events. Team Building Global's unique selling point is we understand how diverse the audience's requirements are and also hold the in-depth knowledge of delivering a catered solution. This catered solution is given with a deep analysis of your company, the unique challenges you face and lastly delivering stronger employer-employee relationships.
Team Building Global is a team building company in India that has been of the top recommended companies and is founded by Anchor Abner Dias. He has over 14 years of expertise and has been part of corporate events for a long time. Team building global has provided its services to multiple start-ups, and MNCs. We have provided our services to global companies. An organization that has truly understood the meaning of team building and the power it holds will be the one that can deliver exceptional performance for any team building corporate event.